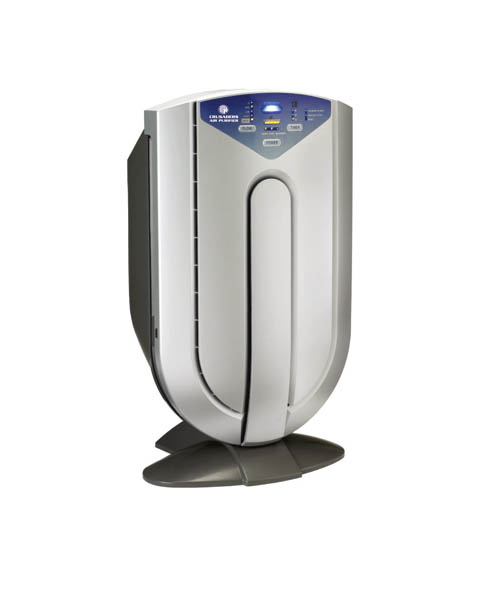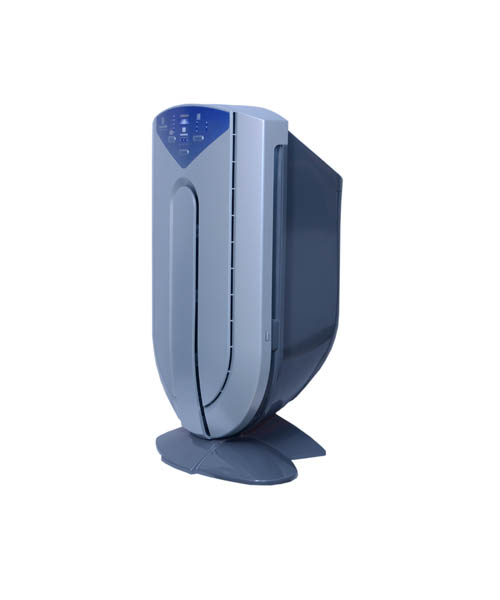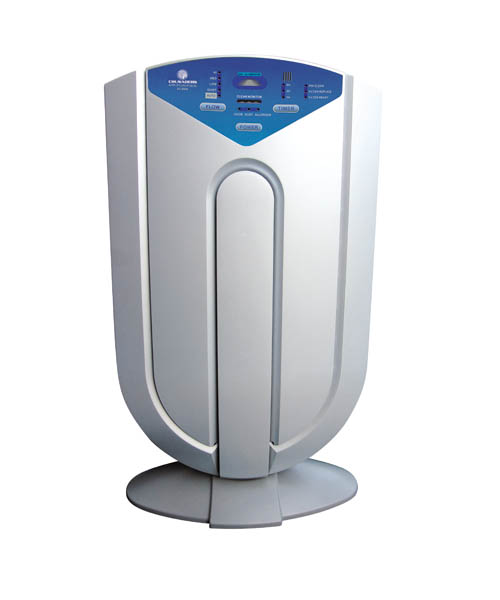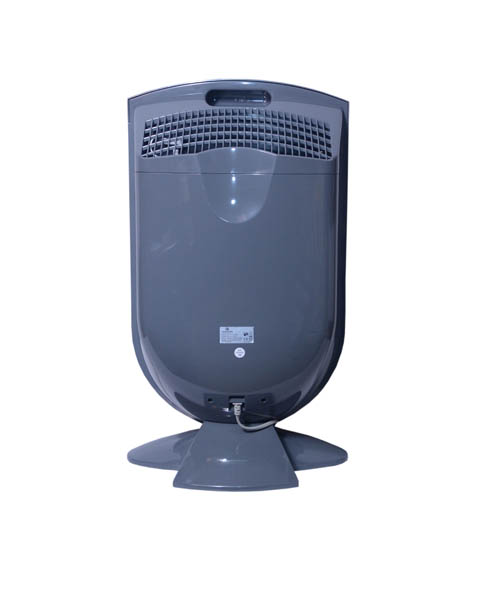 Floor Mounted air purifier Suitable for installation at:- • Home(Bedroom,Living Room) • Offices(individual rooms, conference rooms) • Hospital room,Small OPD, nursery, dialysis, OT, ICU • Any closed Room Application Ideal for people with : • Respiratory problems like Asthma, Bronchitis, TB etc. • Smokers and their near ones • People who are allergic to dust, pollen etc. • Pet owners. • People who in general want a healthy environment. For a room size of 900 sq. feet floor area (height being standard) Features Best-in-class 7 Stage Filtration System : • Pre Filter • Electrostatic Plasma Filter (made specially for India) • Activated Carbon Filter • True professional HEPA Filter • UV Germicidal tube • Negative Ionizer High efficiency in dust collection up to 99.97%. Plasma electrostatic dust collector is washable & easy to clean. Negative ion and activated carbon reduce smoke and odor. 5 speeds of fan, timer control, freely freshen indoor air circulation. UV + Tio2 Photo-catalysis Oxidation to suppress growth of micro-organisms + counter foul smell and gaseous pollution. Neutralizes stale and foul odor rapidly and supplies fresh air. Ultra silent QUIET or LOW speed for use at night so doesn't disturb your sleep DC Brushless motor, low on power consumption and very durable. HEPA filter capable of 0.3 micron of virus, bacteria, dust mites etc. Great design so can be kept anywhere in room. In-built Air Quality Monitor for Dust, Odor and Allergen. If on Auto mode machine adjusts the fan speed based on the Air Quality Monitor. HEPA filter + Carbon filter will last on average around 2 years. Remote control operation available. Made for India, keeping in mind the pollution problems of India.
• Best-in-class 7 Stage Filtration System
• Area Covered up to 900 Sq.feet
• HEPA filter + Carbon filter will last on average around 15 Months.Negative ion and activated c
• Sturdy Floor Mounted Air Purifier
• Area covered up to 900 Sq ft.
• Best in class 7 Stage filtration system
• Washable Pre filter ,Electrostatic charged Plasma filter, Activated carbon filter, Hepa filter 0.3 micron , TIO2 Photocatalytic oxidation Filter, UV Lamp, Negative ions
• Can be controlled through Remote no need to touch.
• Air Quality Sensor
• Dust/Odor/Allergen Indicator
• Wind Speed Adjustment
• Timer Mode
• Smart ION & UV indicator
• Replace filter indicator
• Power consumption – 80W
• Weight – 6.8 Kg
• 1 Year Brand Warranty

Technical Specification

| | |
| --- | --- |
| HEPA Filtration | : 0.3 micron @99.97% |
| Filter Replacement | : After 15 Months (Avg. use of 8 - 10 hours everyday) |
| Inbuilt Sensors | : Odour sensor |
| Applicable Area Max. | : Up to 90 M2 |
| Remote | : Yes |
| UV LED Bulbs | : 10W , >20nw/CM2 (at 10cm distance) |
| Dimensions (mm) | : 343*255*610 |
| Weight (kg) | : 6.8 Kg |
| Electrical | : 220V/50 Hz |
| Power consumption | : 80 W |
| Sound Level (db) | : Less than 52 dB |
| Fan Speeds | : 4(Quiet/Low/Med/High) + Auto Mode |
| Negative ions | : 10 million pcs/CM3 |
| Motor | : DC Brushless Motor (Japanese) |

Air Purification System based on the principal of ECP (Electrostatic charged plasma) & PCO (photo-catalytic oxidation using UV) along with high grade HEPA & carbon filter to neutralize DUST, Pollen Allergen , Smoke , Odor , bacteria , Virus , other micro-organisms , and toxic gases such as formaldehyde .
Best in class 7 Stage Filtration Process
• Washable Pre Filter : Designed to filter Larger Particles and prevent clogging
o Removes: HAIR / Large Dust particle / Pet dander etc.
• Electrostatically charged plasma array : Magnetically traps the tiniest of impurities on a washable mettalic grid, Extends life of the Activate carbon & hepa filter for up to 2 years.
o Removes : Micro Dust particles / Ash / Smoke / Pollen / Carbon etc.
• Activate carbon Filter : A unique honeycomb design containing Live Charcoal granuals, blocks Gases and odours.
o Removes : Cigarette Smoke / Formaldehyde / Ammonia (pet & perspiration odours) VOCs / other famful gases etc
• HEPA Filter : Traps pollutants of size 0.3 micron at 99.97% efficiency rate.
o Removes : very small particles / Small allergens / Microscopic bacteria and viruses / Dust mites etc
• TIO2 Photocatalytic oxidation Filter : Activated by UV Light. It releases free radicals that destroy organic based pollutants.
o Removes : Bacteria / Mould / Viruses / Odors / Formaldehyde / VOCs This Oxidation also breaks the toxic gases into harmless compounds.
• Ultra Violet Light: Works independently to neutralize microorganisms.
Removes : Bacteria / Mould / Viruses etc.
• Negative Ionizer: Trillions of healthy negative ions fill your room for continued cleaning.
o Increases freshness in the room
o Increases activity level in your body
o Helps increases immunity
o Increases WBC Count
o Creates Forest/Hill Station type Air.
Control Menu Crusaders XJ-3800-1
Ion-UV Indicator : During the process when negative ion are generated , the blue indicator will gradually change from bright and dim back to bright every 5 seconds.
Odour Indicator: The odour indicator will grow whenever odour sensors detects odour (such as indoor smoke)
Dust and Irritant indicator: The dust-and- irritant indicator will grow whenever dust or other irritants are detected.
Air Quality Sensor / Monitor: Whenever odour , dust , or irritants are detected , the air quality monitor will indicate the level of Pollution. When pollution is severe, all LED will grow.
FAN MODE : This device has five different fan modes to choose from. Please choose a proper level of circulation according to indoor air quality and Room size.
TIMER MODE : How long you want to use your machine. The LED will show the following sequence of timer.You can choose between 1 Hour – 2 Hour – 8 Hour duration.
The Best feature is this machine comes with remote control. You can operate this machine with a Remote.